Don't Eat Protein
COMPLETELY Alone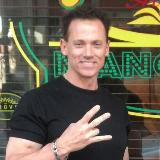 *Disclaimer - Results may vary based on a variety of factors. 

Don't eat protein COMPLETELY alone. Even for the last meal have a low-glycemic fibrous carb such as a cucumber, tomato, zucchini, mushrooms etc. Recent studies show that eating protein alone can spike your insulin levels as much as eating teaspoons of sugar!*
If you would like a complimentary consultation to assess your goals and make a game plan to achieve them please contact me at 520.400.9573 or on the contact form below. *
This can be done for you over the phone if you do not live in the Tucson area.
Sincerely,
Mark Saunders
thetucsonpersonaltrainer@gmail.com
520.400.9573

Want To Receive Free Short Motivational Text Messages to you phone? Click this link to enter your phone number. 
Social Media Connections:

Facebook - Mark's Personal FB Profile
Facebook - Mark's FB Weight Loss Group 
I Love Being Fit Over 40 - Facebook 
Community Page
Facebook - TTPT LLC FB Page